Bridesmaids Bouquets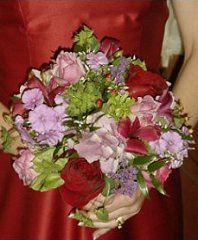 The color of the bridesmaids' dresses is very often a starting point in planning the color harmonies for the wedding flowers, and your florist will have several suggestions as to how the color may be best utilized.

For example, the dress color may be repeated in the bridesmaids' bouquets or it may be the basis of a contrasting, complementary color harmony.

We create designs to accent the color and style of any dress in any setting...from casual to formal, chapel to cathedral.