Wedding Reception Arrangements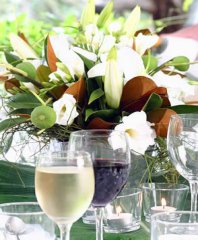 The wedding reception may be decorated in a style similar to that of the ceremony, or it may be completely different. Flowers enhance any celebration, from simple single stems to elaborate pedestal ensembles.

Centerpiece Groupings & Garlands for Head Table, Buffet & Guest Tables

Door Wreaths, Entryway Décor, Floral/Balloon Arches & Chair Markers

Floral Topiaries & Candelabra Flowers

Flowers for Bride & Groom Getaway Car & more.